Windows
Vinyl Windows are our specialty!!! They are the most energy efficient type of window manufactured today. They come in many styles and shapes, and are limited only by your imagination. Call us for more information.
Slider
The Slider window will not have the same wind and water resistance capacities of the casement however the slider meets all regulatory requirements and are not only esthetically pleasing, but also smooth to operate, and low maintenance.
Shape
Shape windows are custom designed in a variety of shapes and sizes to serve a customers personal and artistic needs.
Picture
A very large fixed window in a wall, typically without glazing bars, or glazed with only perfunctory glazing bars near the edge of the window. Picture windows are intended to provide an unimpeded view, as if framing a picture.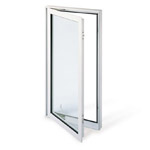 Casement
A casement window is a window that is attached to its frame by one or more hinges. Casement windows are hinged at the side.
Awning
An awning window is hung horizontally and hinged on the side. This window opens from the bottom.